You are here
Home
>
Planning For Post-secondary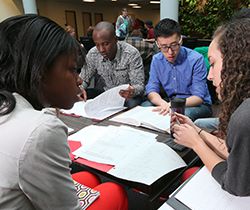 There's only one you — with unique talents, interests and aspirations. You're facing a big decision: where will you spend the next years of your life? What will you study?
It's OK if you don't know what you want or what the next steps are. We have the tools and information to help you make a decision, including a checklist for high school students, tips for parents, and a glossary to help define all that post-secondary language. You can also find information on scholarships, bursaries and student loans.
The information in this section is helpful whether you are:
A Nova Scotia high school student trying to decide if you want to stay here,
An international student considering coming to Nova Scotia to study and start your career,
A post-secondary student currently studying at university or college in Nova Scotia looking to add a course or continue in a new program,
A mature student who has been out of school for a while and wants flexible part-time options to upgrade your education. 
Explore your options
Do you want to move with the momentum and excitement of a larger school? Experience the quiet charm of a small-town campus? Study at the only French-speaking post-secondary school in NS? Explore community college options? Whatever you decide, it's all here for you in Nova Scotia.
Exciting areas to study
forensic science
drama
nursing
computer science
media arts
comparative religion
education
film studies
psychology
environment and sustainability
public relations
digital animation
ocean sciences
agriculture
criminal justice
journalism
social work
Celtic studies